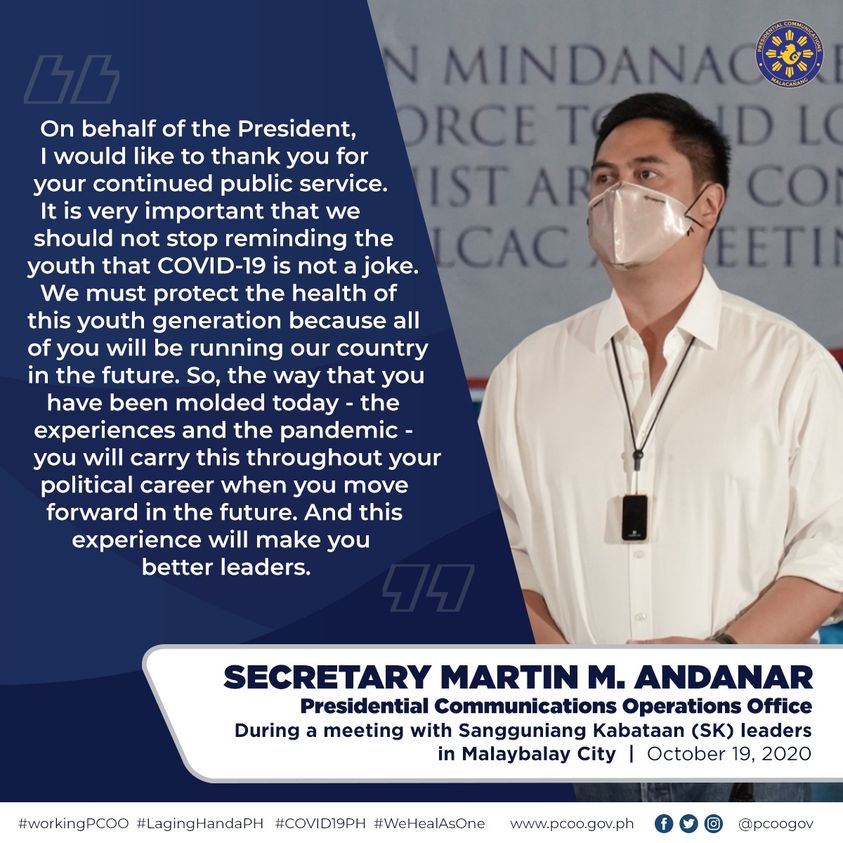 MALAYBALAY CITY, Bukidnon – Presidential Communications Operations Office (PCOO) Secretary Martin Andanar on Monday encouraged youth leaders to join the fight against the COVID-19 and its impacts, especially to fellow youth.
In his brief talk with the Sangguniang Kabataan (SK) leaders here, Secretary Andanar told them ways to help ease the burden brought by the pandemic such as helping their fellow students who are struggling to adapt to the distance learning approach.
"The fight is not yet over. We still have the distance learning, where we should be active in guiding the youth who are having difficulty adapting, catching up on their classes," he said.
Secretary Andanar, who is also the Cabinet Officer for Regional Development and Security for Northern Mindanao (CORDS X), showed them an explainer video of the National Action Plan phase 2 against COVID-19 which showcases intensified and aggressive efforts to Prevent, Detect, Isolate, Treat, and Reintegrate (PDITR).
"We are counting on the SKs to help ease the burden of the teacher on explaining why this is happening, while we still don't have the vaccine. Your leadership is very important," he added.
He also mentioned how PCOO is actively urging the youth sector to take part in community activities through the agency's various programs and projects, including inviting them as guests for the shows where they can highlight the initiatives of the younger generation in their respective localities.
According to the PCOO chief, shows and programs such as the Network Briefing News, CORDS X, F.Y.I., and Youth for Truth highlight the crucial role of the youth in developing innovative solutions to various issues in the society.
"On behalf of the President, I would like to thank you for your continued public service. It is very important that we should not stop reminding the youth that COVID-19 is not a joke. We must protect the health of this youth generation because all of you will be running our country in the future. So, the way that you have been molded today – the experiences and the pandemic – you will carry this throughout your political career when you move forward in the future. And this experience will make you better leaders," he said.
###