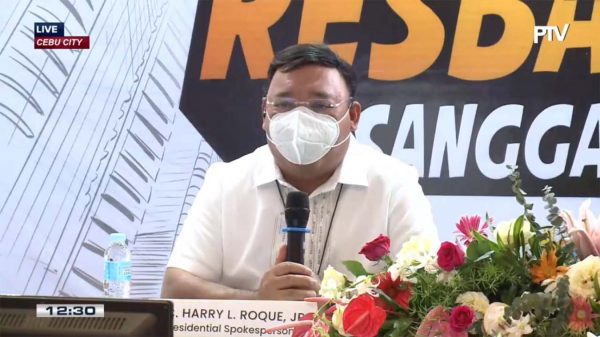 The rollout of the national vaccination program against COVID-19 in the provinces has already began as the vaccination of healthcare workers in the Visayas started today, March 4, 2021 at the Vicente Sotto Memorial Medical Center (VSMMC) in Cebu City.
VSMMC Medical Center Chief Dr. Gerardo Aquino Jr. received the first dose of the CoronaVac vaccine of Sinovac during the ceremonial vaccination that signaled the start of the vaccination rollout in Cebu and the Visayas.
Presidential Spokesperson Secretary Harry Roque Jr. was in Cebu City today where he conducted a press briefing and witnessed the start of the vaccine rollout in Cebu City starting with the ceremonial vaccination of Dr. Aquino of VSMMC. "(S)iya po (Dr. Aquino) ang unang-una [na] Cebuano at Visayan na matuturukan ng bakuna laban sa COVID-19," said Secretary Roque.
Dr. Aquino said that he agreed to be the first to be vaccinated in order to give confidence to his fellow medical frontliners to accept the vaccine that is given to them now. He added that although there were some who hesitated at first among the health care workers of VSMMC, the number of those who signified to have themselves be vaccinated with the Sinovac vaccine has steadily rose to 1,245 individuals as of today.
VSMMC's Medical Center Chief likewise stressed on the importance of the vaccine to prevent the pandemic from continuing, especially since Cebu City is among the Top 5 areas with the highest number of new cases. According to the Department of Health, Cebu has 166 active cases that has been reported yesterday, March 3.
Despite the increasing number of new COVID-19 cases in the city, Cebu City remains under the Modified General Community Quarantine classification. "Kaya naman po hindi itinaas ang quarantine classification ng Cebu bagama't tumaas po ang mga bagong kaso eh sapat naman po yung ating tinatawag na health care utilization rate," said Secretary Roque.
According to Roque, who is concurrent spokesperson of the Inter-Agency Task Force (IATF), to ensure that the COVID-19 situation continues to be in check in Cebu and the whole Region VII, the IATF recommended to increase surveillance capacity of local government units (LGUs) in the region. The IATF also recommended to increase close contacts tracing, have all close contacts traced and isolated within 24 hours, and to continue with third generation contact tracing for cases positive for mutations with potential clinical significance.
Sec. Roque added that the IATF also recommended to increase the isolation capacity for Cebu Province, Cebu City, and Lapu-Lapu City. It was also suggested that utilization of temporary treatment and monitoring facilities be increased to help reduce the number of cases and close contacts who are in home quarantine.
Further, Roque said that lockdowns in community and closed settings, are recommended, as needed, to limit mobility as well as enable immediate implementation of response activities. It was also advised that a representative number of positive samples from all areas be sent for whole genome sequencing, and that monitoring and submission of progress reports on contact tracing, surveillance, isolation, and adherence to minimum public health standards are required.
Meanwhile, Roque said that as of 5pm of March 3, 2021, a total of 9,077 individuals have already been vaccinated. Of that number, 771 were vaccinated on the first day, 2,715 on the second day, and 5,591 on day 3 of the vaccine rollout.
"Makikita natin na pataas nang pataas ang kumpyansa ng ating medical frontliners sa ating vaccination. Sana ay magtuloy-tuloy na ito sa ating mga kababayan," Roque said.
The increase in the number of medical frontliners who had themselves vaccinated was reflected in the University of the Philippines-Philippine General Hospital (UP-PGH) where the number of vaccinees increased from 128 vaccinated medical frontliners on March 1, to 483 on March 2, and to 573 on March 3, for a total of 1,184 vaccinated medical frontliners.
Nurse Mai Anne Del Monte of the UP-PGH who had herself vaccinated with the Sinovac vaccine said that her experience as a nurse who takes care of patients in the COVID-19 ward made her decide to take the vaccine now. Del Monte said that she did not hesitate to take the vaccine because she knows that it will protect her and encouraged her fellow medical frontliners to grab the chance now to be protected as well from COVID-19. ### OPS-PCOO