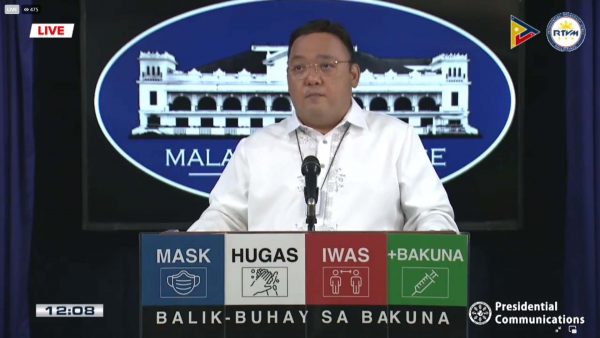 In the continued conduct of the country's national vaccination program against COVID-19, the Philippines has now recorded a total of 26,127,502 vaccine doses as of August 11, 2021, with more than 12 million Filipinos now fully vaccinated.
Presidential Spokesperson Secretary Harry Roque Jr. announced this vaccination milestone in a press briefing today, August 12, 2021, where he thanked everyone for the increased vaccine confidence.
"Ito po ang ating depensa laban sa COVID-19 at mga variants, kasama ng patuloy nating pag-ma-Mask, Hugas, at Iwas," said Secretary Roque. The Palace official added that as long as our vaccines supply continue to arrive, vaccinations will continue all over the country.
Sec. Roque mentioned about the arrival last night of 813,150 doses of the Pfizer vaccine that the government procured, and the 100, 000 of the Hayat-Vax vaccine that also arrived yesterday, which is a donation of the United Arab Emirates government.
In the same press briefing, Quezon City Mayor Joy Belmonte reported that as of August 11, 2021, the city government has vaccinated 1,191,251 or 70.07 percent of its target population with a first dose, and 649,682 or 40.44 percent of its target eligible population with a second dose. Adding the number of individuals vaccinated with the Johnson & Johnson's Janssen COVID-19 single dose, Mayor Belmonte said the total number of fully vaccinated individuals in Quezon City is now at 742,974.
Mayor Belmonte also reported that the city has reached its highest number of doses administered in the month of July at 347,358 for first dose and 356,432 for second dose. Belmonte added that the city has reached a new record of highest single-day vaccination of 55,508 jabs on August 10, 2021.
Such vaccination milestones were achieved with the help of some of the city government's initiatives, said Mayor Belmonte, which include home service vaccination for bedridden residents, drive-thru vaccinations, all day and all night vaccination, vaccine rollout for those who missed their second dose, and partnerships with homeowners associations.
Belmonte also highlighted the city government's goal to complete the first dose vaccination of its residents by the end of August 2021 and the completion of second dose vaccinations by October 2021 to cover the remaining 508,749 or 29.92 percent of the remaining population to be vaccinated.
Meanwhile, Caloocan City Mayor Oscar Malapitan reported that the city has now administered a total of 938,503 vaccines, of which 596,612 individuals have received a first dose of a COVID-19 vaccine and 341,891 individuals are now fully vaccinated.
Mayor Malapitan said their vaccination in Caloocan is spread in 26 vaccination sites composed of malls, schools, and barangay covered courts. Malapitan has noted as well that from some 6,000 vaccinees in average in the first few months of their vaccination program, the city government has recorded an increase of 15,000 to 18,000 daily average of vaccinees.
On another story, Sec. Roque announced the approval of President Rodrigo Roa Duterte on the grant of a World Teacher's Day Incentive of P1,000 per teacher of the Department of Education in September, at a total cost of P910-M.
"Ito ay bilang pagkilala sa mga mahalagang papel ng mga guro, lalo sa panahon ng pandemya. Maglalabas po ng guidelines ang Department of Education kaugnay ng nasabing incentive," Roque said. ###OPS-PCOO