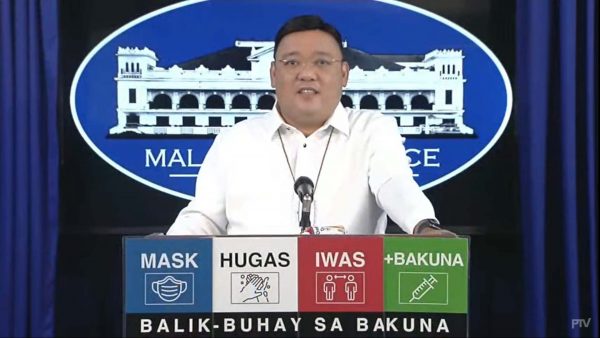 The national government is urging all eligible population to get jabbed with a COVID-19 vaccine first before even discussing plans for booster shots.
"Ubusin muna po natin ang hanay ng ating kababayan. Bakunahan natin ang lahat bago tayo mag-isip ng booster," remarked Presidential Spokesperson Secretary Harry Roque Jr in a press briefing on August 24, 2021.
The Palace official reminded the public that a budget for booster shots has already been allocated in the proposed 2022 national budget, stressing that the priority right now is to vaccinate first all eligible population in order to get population protection.
"Marami pa po tayong mga kababayan ang kailangang mabakunahan. Sa mga nabakunahan na, huwag naman nating i-deprive iyong mga hindi pa naturukan ng COVID-19 vaccine. Maawa naman po tayo sa kanila," said Sec. Roque.
Dr. Rontgene Solante, who is a member of the government's Vaccine Expert Panel, affirms the Palace's stand on booster shots, adding that there are still no recommendations on giving booster shots in the country. Dr. Solante further underscored that all of the vaccines that are being used in the national government's vaccine rollout program provide effective protection against infection, symptomatic COVID, and severe COVID.
Dr. Solante added that even if there are data that point to decreased immunity with certain COVID-19 vaccines after six to eight months, the vaccines are still effective and will continue to offer protection. Citing data gathered from the hospital where he works, Solante said that there were more unvaccinated individuals who were admitted for COVID-19 and who developed severe to critical symptoms compared to vaccinated people.
Experts have been pointing out that getting jabbed with a COVID-19 vaccine can help prevent hospitalization and may reduce the risk of getting the severe and critical forms of the disease. Roque stressed that while the country is yet to achieve population protection, the government is ensuring that the nation's healthcare systems will be able to provide adequate care and attention to those who will get seriously sick with COVID-19.
"Alam na natin ang anyo ng kalaban. Maraming mahahawa pero wala pang mga two percent ang kinakailangang ma-hospital. Ang pinaghahandaan po natin eh dapat kung sila ay pupunta sa ICU eh dapat mayroon silang kama na makukuha sa ICU o di kaya sa isolation wards," said Roque.
On the other hand, Solante assured most hospitals are now prepared to increase the allocation of beds for COVID-19 if cases continue to rise. He noted though that the increase in COVID bed allocations should be balanced with available healthcare workers.
On vaccine updates, Roque said that more vaccines will be delivered in the coming weeks, including the 362,700 doses of the Pfizer vaccine procured by the national government, and some three million doses of the Sinovac vaccine by the fourth week of August 2021.
Roque said that a total of 30,693,019 vaccine doses have been fully administered nationwide, while there are now 13,197,689 individuals who are fully vaccinated, as of August 23, 2021.
Meanwhile, Christian Gonzalez, Executive Vice President of the International Container Terminal Services Inc., which funded the construction of the mega vaccination site at the Nayong Pilipino, said that while the vaccination site is open to non-residents of Parañaque, registration for vaccination should still be coursed through the local government unit.
Gonzalez said that the Nayong Pilipino Vaccination Center can accommodate as much as 15,000 people per day, and has been initially allocated with 50,000 doses of vaccines. ### OPS