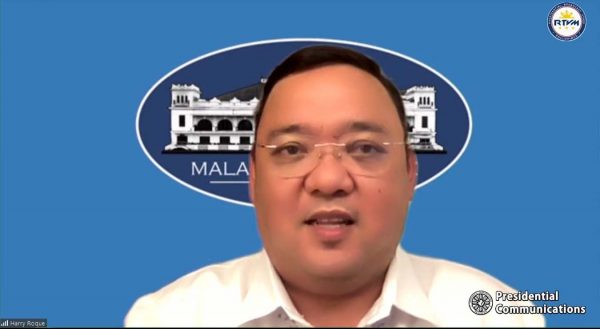 Presidential Spokesperson Secretary Harry Roque Jr. said that the pilot implementation of the Alert Levels System for COVID-19 Response and the strict implementation of granular lockdowns in areas, if and when these strategies become successful, would result in the lowering of COVID-19 cases and slowing down of virus transmission.
In a press briefing today, September 16, 2021, Secretary Roque underscored that the recent lockdowns did not yield a significant lowering of the number of cases because of the widespread community transmission of the highly transmissible Delta variant. This is one of the reasons behind the policy shift to a more granular lockdown-centered response, said Roque.
"Ang siyensya po dyan ay dahil alam naman natin kung nasaan yung mga kuta ng COVID-19 at siguro kapag yun talaga ang sinara natin na wala talagang maglalabas-pasok kung hindi mga health professionals at saka yung mga OFWs, baka naman ma-contain yung pagkalat dahil hindi na makakalabas doon sa lugar kung saan marami sila," explained Sec Roque.
Starting today, the National Capital Region (NCR) is under Alert Level 4 wherein restrictions will only be on certain activities or sectors where the 3Cs (closed, crowded, close contact) will apply. Areas outside Metro Manila will still be under the previous community quarantine classifications.
Areas in the NCR that are not under granular lockdown will not have restrictions on travel, according to Philippine National Police Chief Police General Guillermo Eleazar. This means that intrazonal travel within the NCR will not be restricted, except in areas under granular lockdown.
In the same press briefing, General Eleazar clarified though that while the NCR is under Alert Level 4, its adjacent provinces are still under Modified Enhanced Community Quarantine (MECQ), which is why for interzonal travel the existing provisions under MECQ will still apply.
Eleazar added that for this reason, only Authorized Persons Outside of Residence with essential reason for travel, such as for work, will be allowed interzonal travel out of the NCR.
On the implementation of granular lockdowns, Eleazar said that there are currently 54 areas in the NCR that are under granular lockdowns, which are being implemented by local government units.
The PNP Chief added that PNP personnel who were previously assigned to do random checks in quarantine control points have now been re-focused in areas under granular lockdown and in industries/sectors that were allowed to operate where many people tend to congregate, to ensure that the minimum public health standards are strictly being enforced.
Meanwhile, on updates to the country's vaccination program, Sec. Roque announced that another milestone has been reached, as the total vaccines administered is now at 40,030,388, as of September 15, 2021 data from the National COVID-19 Vaccination Dashboard. Of the said number, 17,675,959 individuals are now fully vaccinated.
"Sa Metro Manila, nasa 14,672,783 naman po ang total vaccines administered…sa bilang na ito, nasa 6,184,386 naman po ang fully vaccinated, equivalent to 63.26 percent," said Roque.
The concurrent spokesperson of the Inter-Agency Task Force also mentioned about the arrival of 753,480 doses of the Pfizer vaccine yesterday, September 15; and the expected delivery of 661,200 doses of AstraZeneca vaccines tomorrow, September 17. ### OPS