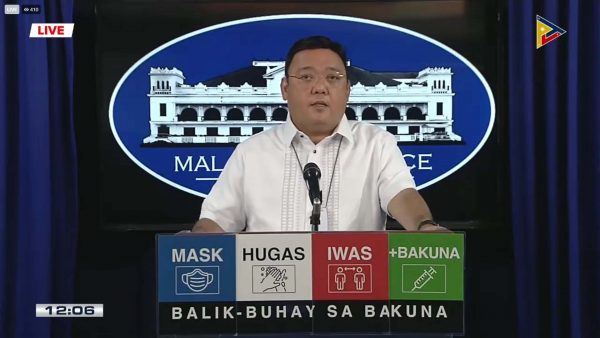 Metro Manila will be under Alert Level 3 beginning Saturday, October 16 until October 31, 2021 per the latest Inter-Agency Task Force (IATF) Resolution No. 143-A, which also listed the allowed and restricted activities and industries for areas under Alert Level 3.
Presidential Spokesperson Secretary Harry Roque Jr, in a press briefing on October 14, 2021 said the National Capital Region's (NCR) moderate healthcare utilization rate and moderate two-week growth rate and daily attack rate provided for the lowering of the NCR's alert level to Level 3.
Under the guidelines for areas under Alert Level 3, "Pinapayagan ang intrazonal at interzonal travel, subject sa reasonable restrictions base sa edad at co-morbidities, as may be determined by the accepting LGUs," said Secretary Roque.
The Palace official also enumerated the activities and industries not allowed under Alert Level 3, which include face to face or in-person classes for basic education, contact sports except for those conducted under a bubble-type set-up and approved by local government units (LGU), funfairs, peryas, and kid amusement industries, and venues with live voice or wind-instrument performers and audiences.
Also prohibited are casinos, horse racing, cockfighting and operation of cockpits, lottery and betting shops, and other gaming establishments except as may be authorized by the IATF or the Office of the President, and gatherings in residences with individuals not belonging to the same household.
Roque also mentioned the guidelines for allowed industries and activities under Alert Level 3. "Ang allowed po, ang general rule is 30 percent indoor venue pero para lang po yan sa fully vaccinated, at 50 percent outdoor venue para sa lahat, whether or not fully vaccinated or hindi vaccinated," Roque said.
The following are allowed under Alert Level 3 at 30 percent indoor venue capacity for fully vaccinated individuals and 50 percent outdoor venue capacity for both vaccinated and unvaccinated: venues for meetings, incentives, conferences, and exhibitions (MICE), permitted venues for social events, visitor or tourist attractions like libraries, archives, museums, galleries, exhibits, parks, plazas, public gardens, scenic viewpoints or overlooks, and amusement parks or theme parks.
Also allowed at Alert Level 3 at the same capacities mentioned above are recreational venues like internet cafes, billiard halls, amusement arcades, bowling alleys, skating rinks, archery halls, swimming pools, and other similar venues; cinemas and movie houses; and the conduct of licensure or entrance/qualifying examinations administered by their respective government agency, and specialty examinations authorized by the IATF.
"Kasama rin po sa pu-pwede na at 30 percent indoor venue para sa mga fully vaccinated at 50 percent para sa outdoor ay ang in-person religious gatherings, kasama na po dyan yung para sa mga necrological service, wakes, inurnment, funerals para po doon sa mga namatay other than COVID-19 at saka yung cremains of COVID-19 deceased," said Roque.
Also allowed at 30 percent indoor venue capacity for fully vaccinated and at 50 percent outdoor venue capacity for both vaccinated and unvaccinated are dine-in services in food preparation establishments; personal care establishments like barbershops, hair spas, hair salons, and nail spas, and those offering aesthetic/cosmetic services or procedures, make-up services, salons, spas, reflexology, and other similar procedures including home service options; fitness studios, gyms, and venues for individual non-contact exercise and sports; and film, music, and TV production.
Meanwhile, World Health Organization (WHO) Representative to the Philippines Dr. Rabindra Abeyasinghe, in the same press briefing, expressed the WHO's support to the Philippines' move to start the vaccination of 12 to 17 years old with comorbidities. Dr. Abeyasinghe said the WHO is recommending the inclusion of the said adolescent group with comorbidities in the primary group of vaccination for vulnerable population.
The WHO representative to the country also underscored the support of the WHO to granular lockdowns and the easing of restrictions because he said that there is a need to adjust and calibrate restrictions as lockdowns have terrible economic consequences that affect people negatively.
Abeyasinghe emphasized the need to urge LGUs to ensure that there is access to testing and to urge the population to do everything they can to quarantine or isolate themselves if they are having symptoms. He added that while the calibrations are important, it must likewise be flexible enough to tighten restrictions in very granular areas, if local transmissions are happening within cities, puroks or barangays.
Finally, Dr. Abeyasinghe stressed that it is not about relaxing or reducing the restrictions, but more on calibrating so that risk-based measures may continue. He also urged everyone to continue doing physical distancing and mask wearing even when fully vaccinated because it is important to maintain the gains and further strengthen transmission reduction. ### OPS